Motorproblem, vil ikke starte.
Forhistorie:
Om efteråret havde jeg transporteret båden på en lastvogn. Undervejs bremsede lastvognen,
kølevandet i udstødnings-slangen røg frem, - udgangsventilen stod selvfølgelig åben,
og vandet røg videre ind i selve motoren (cylinderen) !
Om foråret ville motor ikke starte, ikke mærkeligt, alle stempelringe var rustet fast!
Fik lånt en el-motor og anbragt som vist på billede.
Efter 15-20 minutters starthjælp var motor så varm at diesel antændte - og motoren kunne køre selv,
- og fik herved rystet alle stempelringene løs !
Motor kørte siden fra 2002 til 2011 upåklageligt. Men i 2012 slut, købte en ny,
Se hvordan
Engine will not start.
What happened in the autumn before:
My boat was transported on a truck. When the truck made a stop, the water in the cooling-system- exhaust-tube run foreward,
- the out-valve of course open, - and the water continue into the engine (cylinder) itsself !
In the spring the engine would not start, everthing inside was rusty !
Mounted an Electric-motor as shown on the picture.
After 15-20 minutes runing with el-motor, the cylinder inside got so hot, that the fuel got into fire itself,
- and the engine started. All the rusty were shaked away !
(which means the rings mounted on the piston got released)
The engine has later on run without any problem for since 2002. But in 2012 I got a new engine,
See how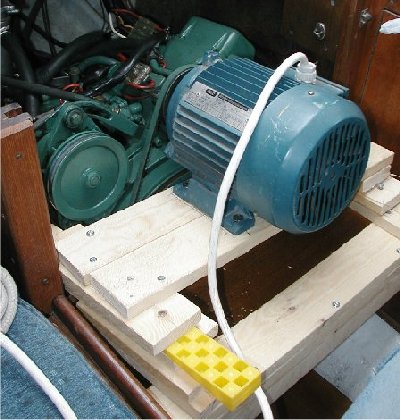 Forside